This guide addresses the construction, possible disassembly, and possible repair of erratic or failed APPS units.
These throttle control units, APPS (Accellerator Pedal Position Sensor), most frequently seem to fail or become erratic in operation due to deteriorating contact between internal rotating fingers and the resistance track they ride on inside the APPS unit, causing surging, jerking or other erratic engine RPM deviations at varying speeds.
These APPS units are NOT intended to be disassembled, or repaired – they are considered a replace-only item – and should only be worked upon as a last resort, with the assumption that efforts to repair them MIGHT only make things worse! BE FOREWARNED!
BUT, since they cost about $300+, it might be worth the gamble to at least attempt to restore proper function by use of injection of a contact cleaner to restore proper internal contact of the fingers to their respective resistance tracks, if that IS actually the cause of erratic engine behavior.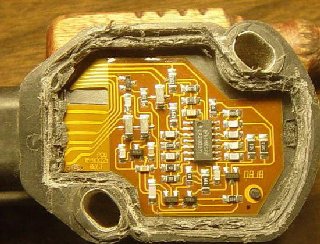 Here's what they consist of internally – this is the solid-state circuitry under the label cover. There is absolutely NOTHING the average owner can diagnose or repair in there, so no use even messing with it!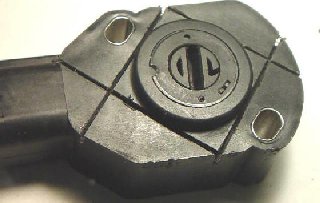 Here is the other side, where the APPS control shaft is visible: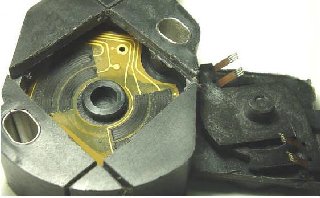 As can be seen, I have made 4 cuts down about 1/8 inch with a hacksaw to gain access to the internals – but truth is, if your problem is serious enough to require this step, you're probably better of simply replacing the unit!
Here's what's inside: Visible are the internal printed circuit carbon tracks – and to the right, the removed cover with contact fingers shown.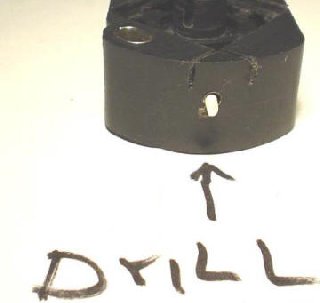 Best approach to repair, seems to be drilling about a 1/8 inch hole HERE for spraying with a good contact cleaner.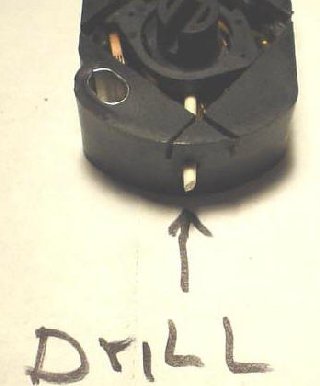 Another, overall view:
The hole should be 1/4 inch from the top surface – the white gizmo seen in the hole is just there to show where the hole is, and how the hole lines up with the innards of the case, and will be about 1/8 thru the outer case.
A sleeve or other limiter to prevent the drill from extending too far inside the case is a good idea – there's not anything close to that point to be damaged, but caution is advised. It's unlikely that residue from drilling would present any problem, and the hole can be covered with tape or silicone sealant after application of the contact cleaner.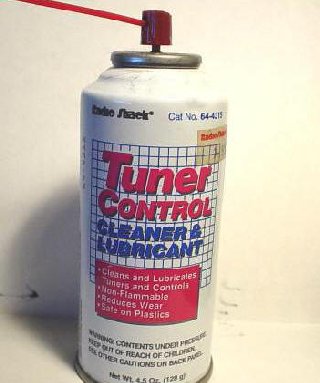 In applying the cleaner, only insert the tube (assuming you use something like what is displayed here) about 1/8 inch inside the case for widest spray pattern and best dispersal – after application, rotate the APPS control briskly thru it's range of travel to clean and disperse the cleaner for best effect.
Here's the stuff I use for this sort of work. All this can be done without removing the APPS unit from it's mounting bracket, so no adjustment or calibration should be needed.
[thanks to Gary – K7GLD used with permission]