This is a followup article to Cleaning Stickum Left From Vinyl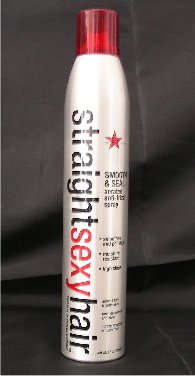 After the last article regarding removing the stickum leftover from vinyl lettering and signs, several people got hold of me to let me know of their remedies. DM left a comment on the article site about peanut butter removing residue left behind by decals. This sounds like it would work, but you should remember there are abrasives in peanut butter (especially the chunky style!).
Lots of people recommended hair spray. I tried several. Most did little better than WD40 — except one — and my wife was quick to remind me it is not hair spray but anti-frizz spray. I have used StraightSexyHair by Sexy Hair Concepts. The label says, "Property of Michael O'Rourke" — how cute!
My daughter picks this up at Fred Meyer (Kroger's for all of you in Ohio and the East).
I have used this on the toughest jobs, including some black marks that looked like vinyl on my rear window that several detailers were unable to deal with. Everything, including xzylene, was used to no avail. But a few deep rubs with StraightSexyHair and the marks were gone.
Try it for yourself. — and keep me posted!