Fueling and Timing Boxes Etc…
Edge Products (www.edgeproducts.com)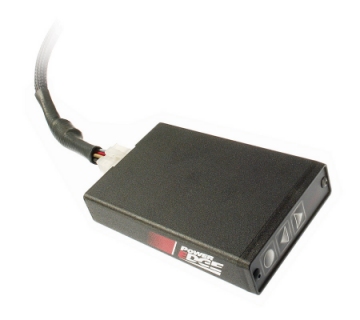 Edge has a variety of products to unleash the potential of this monster delivering gains up to 120 horsepower and up to 350 foot pounds of torque.
The Edge Comp module maximizes engine efficiency by monitoring the RPM, timing, turbo boost pressure and fueling parameters. The module uses this information to determine and control both fueling and timing enhancements for the Bosch fuel injection pump. Timing and fueling enhancements are controlled via CAN-BUS through the Data Link and by connecting directly into the Bosch fuel injection pump.
The Edge Comp features five power levels with power gains from 40-120 horsepower. Each of the five power levels has an independent five-level adjustable responsiveness setting, providing for a total of 25 levels of adjustability! The responsiveness settings enable you to dial-in the optimum balance between responsiveness and low boost smoke control, no matter what additional power modifications have been made to the engine. The Comp module is fully adjustable on the fly and mounts inside the cab.
Sub-levels 1-3 on the Comp will provide de-fueling below stock. The de-fueling mode is entered only when rpm and boost are below a set value and stock fueling is being increased beyond a set rate. These conditions are different for each sub-level 1-3. During operation, when the de-fueling mode is entered, the rate of fueling increase is limited, which reduces smoke. De-fuel mode is exited once stock fueling equals the fueling controlled by the Comp. This way the transition is smooth and cannot be felt while driving. De-fuel mode is entered the easiest in sub-level 1 and has the smallest allowable fuel increase, while sub-level 3 de-fuel mode is not entered as easily and has a larger allowable fuel increase.
Sub-levels 4 and 5 allow adjustment of the additional fueling above stock based on boost level. Sub-level 5 adds the most fuel at low boost; Sub-level 4, which adds less fuel than Sub-level 5, corresponds to jumper setting 2 on the EZ.
The amount of additional fuel added is calculated, the amount actually added after being compared to boost from the total is as shown below:
Sub level 1: 33% is added at 0 psi boost 100% is added at 20 psi boost
Sub level 2: 50% is added at 0 psi boost 100% is added at 15 psi boost
Sub level 3: 67% is added at 0 psi boost 100% is added at 10 psi boost
Fuel may be added at 0 psi boost on all Sub Levels and EZ Jumper settings unless the de-fuel mode is entered as described above.
Power Level 1 on the Comp is the same as the EZ; on Power Levels 2-5 additional power is added via the wire tap onto the injection pump. If the pump wire is not attached with a Comp, Levels 2-5 are still operational, but the power gain is not any higher than Level 1. Under this scenario, however, power will come on much earlier in the throttle.
# In-Cab Adjustability
# 5 Adjustable power levels
# Additional 40-120 Horsepower gains
# Ability to control fueling levels
# Quick and Easy Installation
# Increased Fuel Economy
# Excellent Throttle Response
TST Products (www.tstproducts.com)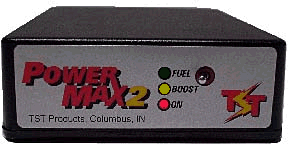 TST has developed an add-on computer which takes over control of the injection pump for the ultimate torque increase. Our price for this add-on computer, the PowerMax™, is $549 with starting power level of 60 horsepower and 160 lb-ft of torque above stock at the ground. PowerMax™2 adds 90 horsepower and 250 lb-ft of torque at the ground. PowerMax™3 adds 120 hp and 360 torque at the ground (expect about 10% less with automatics). This add-on takes about 30 to 60 minutes to install and normally has no affect on tank mileage. Manual transmissions work with either PowerMax or PowerMax™2 power levels, however, automatics may require the aid of a valve body upgrade kit for the PowerMax™2 level. Towing is not recommended with the PowerMax™3, automatics will require valve body enhancements, and the manual transmissions will require a clutch upgrade. Dimensions on PowerMax™ Computer – Width 3.5″ Height 1.25″ Depth 4.5″
POWER MAX COMPETITION
The Competition develops up to 165 rwhp in the ETC and 130 rwhp in the ETH. Be sure to order an R-35 digital remote controller. Warning: The Competition is not as civilized as the Powermax-3 and may not be the best choice for highway or town
POWER MAX 3
10 LEVELS OF POWER FROM MILD TO WILD FIRST RATE UPGRADE WEATHER TOWING, STREET PERFORMANCE, OR ON THE HIGHWAY ADD 15 HORSEPOWER PER LEVEL FOR UP TO 135 HORSEPOWER ADD 40 FOOT POUNDS TORQUE PER LEVEL FOR UP TO 360 FOOT POUNDS TORQUE AT THE WHEELS
NOTE: The PowerMax 3 is preset at level 6. Adding the R-35, R-45, or R-46 remote control allows full range adjustability.
Bully Dog Technologies (www.bullydog.com)

Take your Dodge Cummins to a whole new level, with Bully Dog's Triple Dog Outlook Combo pack. No one can touch what Bully Dog can do to your 5.9L Cummins. The Triple Dog Outlook combo allows you to do what no one else can, adjust a downloader on the fly inside your cab with our Outlook Monitor. Every program in the downloader is adjustable on the fly! This means you can adjust horsepower levels while you drive using the Outlook Monitor.
While the Power Pup can download multiple settings to your vehicle, the Outlook will give you control over it. This monitor is more than a simple electronic gauge. The Outlook monitor takes priority access to the vehicles engine which allows you to change settings on the fly for dynamic control without using the downloader. In addition, the Outlook also monitors and displays various diagnostic and performance functions within the vehicle.
This is no ordinary downloader; this is the ultimate downloader revolutionizing the Diesel Performance Industry. Don't get left behind. We Triple Dog dare you to take the Triple Dog challenge. Go ahead and take it to next level.
Superchips (www.superchips.com)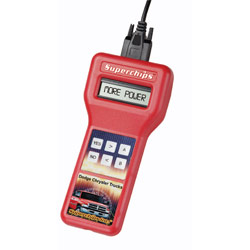 Superchips cracked the codes to release the performance potential of your vehicle. All you have to do is simply connect the MAX MicroTuner to the diagnostic connector inside your vehicle. The MAX MicroTuner saves your stock program, identifies the program and then uploads the correct Superchips performance program for your vehicle, to give you more horsepower and more torque. No generic "one program fits all" tuning – our engineers program to specific ECU codes.
SUPERCHIPS 3705 TriTune Max MicroTuners feature three different tuning options. These new SUPERCHIPS models allow the end user to custom tailor his desired performance level to the specific driving task at hand.
Additionally, the user can calibrate his speedometer for different tire heights.
Dodge 98-02 24V Cummins Options Include:
* Three Power Levels of 40, 50, and up to 70 Horsepower for Non-Towing applications.
* Up to 140 Ft/Lbs of Torque
* Calibrate for changes in tire sizes
* No tools necessary for installation
* More hauling power and pulling power
Blue Chip (www.bluechipdiesel.com)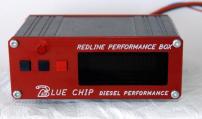 Blue Chip Redline Performance Box
Makes approximately 60 more horsepower and 100 more pounds of torque at the rear wheels than our FMS product.
Blue Chip Diesel Performance is pleased to announce the immediate availability of it's latest patented performance enhancement product, the Blue Chip Redline Performance Box.
The Redline is specifically designed for OFF-ROAD USE ONLY. As such, it extends fueling to the absolute maximum available from the VP-44 pump throughout the operating RPM range. NO MORE ECM DEFUELING!!! Additionally, the Redline, as it's name signifies, extends the maximum RPM from the factory ECM-limited 3200 to a mind-blowing, pull-extending, ET reducing 4000 RPM !!!
In addition to providing extreme fueling and RPM capabilities, the Redline also supports features from the Blue Chip FMS, including EGT and Boost pressure monitoring. It records the maximum values of EGT, Boost, RPM, and fueling during your runs. MAP and thermocouple connections are compatible with previous FMS installations.
Menu choices for user changeable parameters include maximum RPMs from 3400 to 4000 and 15-100 percent of FULL FUELING rate.
Self diagnostics for determining correct wire connection and proper voltage ranges. Self Diagnostics can be used with customer support for diagnosing fuel system and electrical issues. Screen displays "Time Out" when a trigger pulse is lost momentarily.
Whether you're into truck pulling, Drag racing, or Dyno competition, the Blue Chip Redline can give you what you've been looking for – a way to break the RPM barrier!
A waiver of liability will be required as a condition of sale.
[thanks to cominus for updates]