By adding an increased capacity transmission pan you decrease your fluid temperature and prolong the life of your transmission.
Here are some options: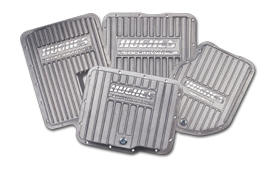 Hughes (www.hughesperformance.com)
Bolt on deep transmission pans are made from cast aluminum and designed with cooling fins to dissipate heat quicker. Cast aluminum pans hold approximately 2 to 4 extra quarts of fluid, thereby reducing operating temperatures and increasing transmission life.
These pans also increase transmission case rigidity, allowing more torsional twist capacity. (A must for 4X4 units.)
* All necessary hardware is included (including filter extensions).
* No modifications are necessary.
* Increased fluid capacity by approximately 2-4 quarts depending on application.

ATS (www.atsdiesel.com)
An ATS Aluminum Pan is an easy upgrade that can make more difference to your transmission than any other part that can be added to the exterior during a routine service. Extend oil life and scheduled services, lower transmission heat by 30 degrees, and make servicing easier due to the large one inch drain plug with a built in magnet.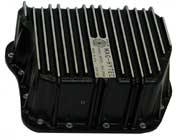 Mag-Hytec (www.mag-hytec.com)
Mag-Hytec's heavy duty transmission pans provide increased lubricant and cooling capacity for hard working turbo diesel powered trucks. Mag-Hytec pans set your vehicle apart in both aesthetics and function – cast in A356-T6 aluminum and texture powdercoated black with machined cooling fins. Magnetic drain plugs trap worn gear material promoting fluid integrity. Each unit is fitted with ARP 568 O-rings for superior sealing. All hardware is 303 stainless steel, in most applications no gasket or sealant is required. All Mag-Hytec parts covered by a lifetime limited warranty. Depend on Mag-Hytec – when your pulling a heavy load.
* Deep high-capacity sump for maximum cooling
* Magnetic drain plug
* 303 hardware except allen head cap screws are zinc plated
* 1/8 NPT temperature sender port
* Finned aircraft aluminum construction
* Requires only three allen key wrenches (included) for installation and service
* O-rings require no gaskets or sealants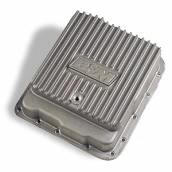 B&M (www.bmracing.com)
B&M's Cast Aluminum Deep Pans feature a gray cast finish and built in drain plug. A socket head cap screw kit is included to mount the pan to the transmission. Some models include a fluid pickup extension.
* Additional oil capacity = more cooling ability
* No modification to the dipstick needed.
* Some models include fluid pickup extension and gasket.
* Filter included in TH-350, Powerglide, C6 & C4 and
TF-727/518 deep pan kits.
* B&M Deep Pans feature built-in drain plugs.
* Cast aluminum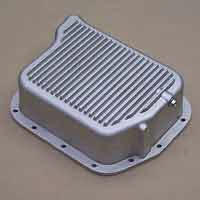 Power Demon
Cummins Turbo Diesel applications. Volume: 2 qts. over stock. Features: Sand-cast aluminum with raised fins 3/16-inch thick wall construction to add strength to the transmission case. 3/8-inch thick gasket flange will not bend when bolts are tightened. Machined gasket surface for a secure seal. Boss cast into pan can be machined for a temperature sensor. Magnetic drain plug for easier, less messy maintenance. Mounting hardware provided.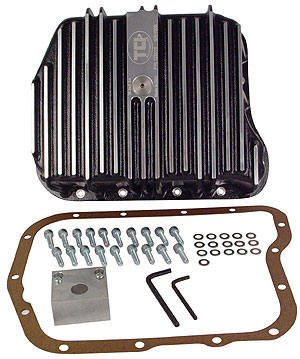 TCI (www.tciauto.com)
Holds 9 extra quarts on 727 and 4 extra quarts on OD units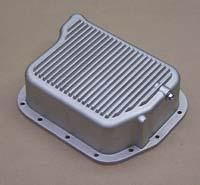 PML
Aircraft Quality Aluminum Transmission Pan for the 47/48RE 1994+ 5.9 Liter Dodge Cummins Diesel Trucks. Capacity Increase of 2 Fluid Quarts, Decreases Operating Temperatures as Much as 30 Degrees.
The PML transmission pans are manufactured from aircraft quality sand cast aluminum. The casting is manufactured with a 0.160 inch wall, and 0.350 inch thick gasket surfaces. The gasket surfaces are precision CNC machined to eliminate any possibility of leaks. The gasket surface is designed to use either the re-useable OEM gasket or high temperature RTV (silicone). Plus if you need to service any part of your transmission and damage the "moulded in shape" 0 ring that some manufacturers use in place of a gasket you will not be able to buy a replacement locally and will have to wait for parts delivery to complete the transmission service. The design of the casting increases the rigidity of your transmission case as well as provides a boss to locate your transmission temperature gauge sender. If you haven't added a temperature gauge, please check the gauge selection area of our site. You might also notice that the pans are NOT powder coated! You are buying a high capacity pan to lower fluid temps and prolong the life of your transmission, powder coating is an excellent insulater, it holds the heat in the pan! Increased lubricant capacity can also hinder the transmissions ability to cool the fluid. Too much increased fluid capacity will ONLY keep your transmission fluid cooler upon initial start up. Once all the fluid is up to the same operating temperature the transmissions ability to cool the excess fluid will actually over tax the pump and the coolers capacity to exchange fluid heat to the air. The pump and cooler is designed to flow "X" fluid efficiently, if you exceed the pumps capacity you will increase temps and waste fluids at maintenance intervals. Every PML pan is supplied with all the necessary socket head cap screw fasteners and a magnetic drain plug, instructions for installation and technical number for any questions you might have. Remember to check our site for other performance items related to your truck. Diesel Performance Products also guarantees pricing on all of our products.