Adjusting the idle speed on the diesel engine is not difficult. The adjustment is located on the driver side of the injector pump near the rear of the pump. You will need a 10 mm wrench.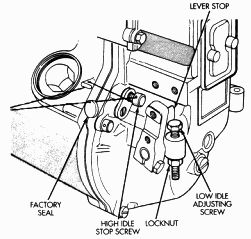 Correct speed is:
1994-1998 with AT – in drive with AC on 750 -800 RPM
1994-1998 with manual in neutral with AC on 750-800 RPM
NOTE: These speeds may cause stalling when the engine is cold. If this is a problem for you, bump the idle speed to 900 RPM.
See TSB 18-07-98 which warns that the dash tachometer is not accurate enough for proper adjustment. If you have adjusted the idle using the tachometer and have any of the problems listed in the TSB, you may use your tachometer to get the idle speed in the ballpark and then use your judgment to fine tune the idle adjustment.
There are several ways to reach the idle adjustment:
Go in from the front of the truck – Lay over on the radiator and snake the right arm back and down to the adjustment.
From a short stepladder beside the driver side tire – Reach down from behind the injector pump to the adjustment.
Stand on 5-gallon bucket by the drivers wheel, lean in under the hood and put the back of your head against the hood insulation – reach your right hand under the brake master AND under the ABS lines to the back of the pump.
From any of the positions above, you can easily feel a vertical bolt with the extra threads on the bottom. The locknut is on the bolt threads below the boss on the pump housing.
An open end wrench will usually loosen the locknut, it is difficult to get a box end wrench to fit onto the locknut.
Loosen the 10 mm Locknut on the low idle adjusting screw at the rear of the injector pump.
Take the left hand and gently push the linkage rearward to take the pressure off and with the right hand:
Turn the idle screw counter clockwise (up) to increase idle speed
Turn the idle screw clockwise (down) to decrease idle speed