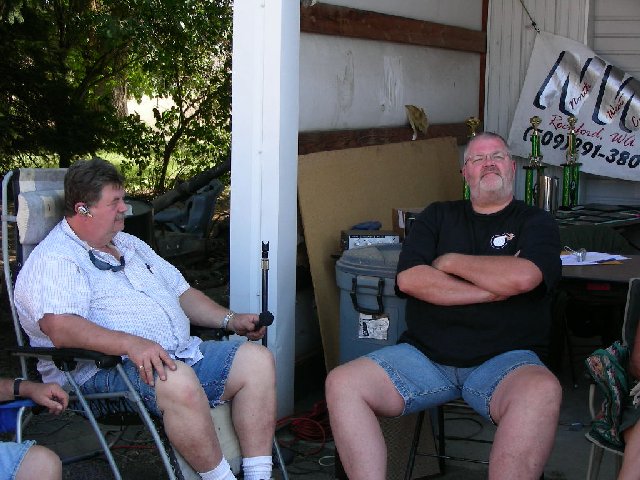 Lem stayed up late the night before and was working into the morning installing the Snow Performance water/methane injection system on his 2002 Cummins. As a result, we were late to the Dyno Drags for this year's Diesel Thunder hosted by Northwest Bombers (local division of TDR). I and our friend Thom, who was working with Lem to get the system installed, arrived at Shelley Automotive, the site of the Dyno Drags, ahead of Andy (Lem) and his girl, Nichelle.
Registration directed me to Bob, who told me registration was closed. Thought so, but I asked him for a favor. Could we squeeze in my son, who is on his way.
"Wha…?" was Bob's response.
But I quickly let him know that my son was the host to CumminsForum.com and Powerstroke.org and that he had spent the morning finishing the install on the water/meth injection getting ready for the race. That's Bob on the left and guy on the right goes by the handle, "Willys Lover" (a Willy's collector) on TDR forums.
"You mean Lem?" asked Bob.
"Lem, he is," was my response. My son is my only claim to fame. I would pass through this life without a name or a face but for my son. All I must do to have instant recognition and legitimacy is drop the name of my son. Life does have its perks!
"Well, we can't promise and we are running late. But if it looks like we can squeeze him in, we will do that."
Great bunch of guys, those Northwest Bombers. After all, helping each other out is what they are all about. Turns out we didn't have time to squeeze him in but we had fun with the trucks that were there.
When Lem arrived, he parked next to Rhonda. Don't remember her last name, but she is a great racer. Story is, she started out with a diesel pickup to haul her horses. Someone told her about a chip and she tried it. Worked so well, she got rid of her horses and started racing. Her truck is runnning 600 plus horses and, according to the soap in her windshield, in the 11.62 bracket. She didn't run in any races this time 'cause she wasn't feeling very good. But she is definitely a great racer. Tonite's big hits were a couple of Cummins out of Monroe, WA. One was the DDP company truck and another I think was an employee of DDP. Both of these truck are running over 800 horses and running within a half second of Rhonda. But, with Rhonda out of the race, I watched these two big bad boys strut their stuff and thought it would be fun if short little Rhonda decided to race after all.
We started looking around at the trucks. Here (from left to right) is Lem (AKA Andy), his girl, Nichelle and Thom looking at the Northwest Custom Cummins. Northwest Custom is south of Spokane, in Rockford, WA. He does a great job with custom rocker panels, mud flaps and he can get real nasty with his dual turbo installation. His site is under construction, but contact info is working at his web site.
Here's a few of the trucks entered into the Dyno Drags. Lots of pride of ownership on display today!
Here is the building where the dynos are performed. This was real great of Shelley Automotive to sponsor and host this event. It cost to enter and get dyno'd, but its less than half price of a regular dyno and you get to pit your truck against the field and see how well you are doing.
This bad boy is owned by a guy named Darrin out of Liberty Lake, WA. That's all I caught. Didn't get any stats, but this truck is mean on the tracks as well, I think he was running in the elevens. Look at the photos below, this is what he did at the dyno, he filled the building with thick black smoke. It took at least five minutes to clear the place out!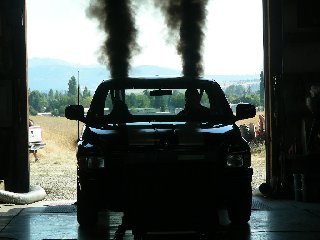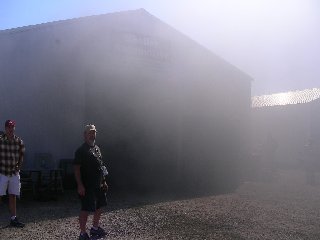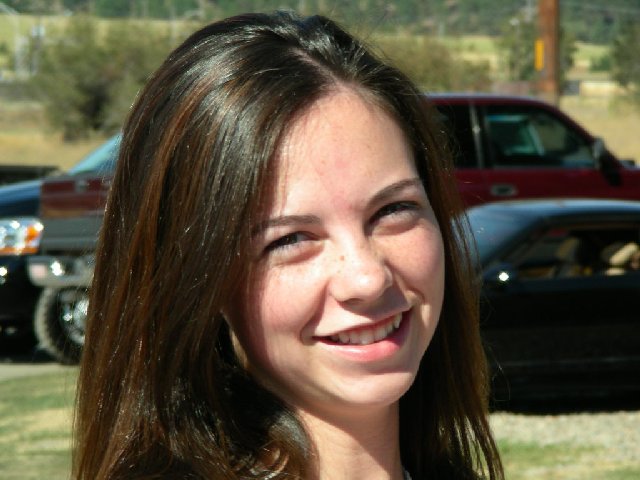 Nichelle says she's having fun and that it is now time to go to the races. Races were held at the Spokane Raceway, west of town and north of the airport. At least twenty pickups competed.
First to the pits, Lem is running the first heat. Not having raced before, he had a few things to learn about boost, engaging the transfer case and such – but a noble racer nonetheless. By the end of the evening, Lem broke out of his bracket and was running in the low 13s! Pretty good — and the last race, the water/meth wasn't working!
Next heat, Bob of NW Bombers (white Cummins) faces off against another Cummins.
Next up – Cummins v Powerstroke. I think the Powerstroke took this heat. Although, the top three on the track this night were Cummins, most every time a Powerstroke was matched against a Cummins, the Ford took the race.
This Duramax was hot! – dual stacks out the rear by the tailgate.
Couple of bad Dodges here! The announcer, didn't like the smoke nor did he understand diesel racing. He started reading off diesel eighth mile stats just to make the point that this was the same stats for Pro Gas quarter mile. He also claimed that all the Pro Gas drivers couldn't understand the stats and wanted to know why the diesels were allowed on the tracks. He just proved he was wrong and bigotted!
At one point, he addressed the crowd saying, "Some of these trucks have a single turbo, some have twin turbos – that's two, and others are just regular [Ed – no turbo?]. All you have to do to call these race trucks is install a chip and upgrade the exhaust!" One thing is for sure, no two: 1) The announcer was an idiot, and 2) Most all these diesels, which are all street legal, can take out almost every one of the Super Gas class! and several could give the Pro Gas a run for their money!
Because my night photo skills leave a lot to be desired, we have no bracket racing photos to show. Hope you enjoyed this little recap. Here's a photo of the staging out of the pits. Diesel trucks on the left, Pro Gas and Supers on the right. See you at the next race.
Look for the video of Lem's last race of the night in the video section!