You could title this: My travels with Lem – Part II.
Here we are on the road to the Weekend on the Edge event hosted by Edge Products of Ogden, Utah. The race is at the Rocky Mountain Raceway in West Valley City, Utah.
This photo was taken at a rest stop in Montana. Funny, we parked next to a CR England truck — the closer we got to Salt Lake City, the more England trucks we saw! Including a whole potfull of student drivers!
The first day we drove from Coeur d'Alene, Idaho to Idaho Falls (Idaho – Montana – Idaho). Friday, we had plenty of time to take care of a few issues and get to the track on time.
By the way, that's my Ford F350 7.3L Powerstroke dually pulling the famous CumminsForum (Lem's) 2002 5.9L powerhouse.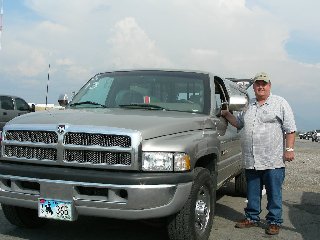 We arrived at the track just before 2:00 PM. Registration opened at 3:00 and we expected to see a line already forming. The only line there was Ray Pierce from Douglas, Wyoming. Ray is in his late fifties or early sixties, soft-spoken and he talks with a big smile. I asked him if he was here to watch the races. He pulled a bunch of articles out of his truck of his 1980-something diesel-powered pickup. Hot machine! The articles were written by Jim Bigley of TheDieselPlace.com and other magazines. I was impressed. Then he said, he was here to race. But instead of racing his Chevy, he brought his Dad's truck, a 12V CTD. This truck was clean but it looked like Grandpa's truck alright! I don't remember what upgrades he said he'd done to it, but he pulled a respectable 16.44 quarter mile with a largely stock truck.
This beauty, a 1996 F350, belongs to Jay Varney from Taylors, Utah. This is his first time racing the quarter mile. Until today, he has been a regular on the sled-pull circuit, usually placing in the top five. Running 4:11 gears gives him a top speed of 95 MPH. When you watch him race, he's fast out of the hole but half-way down the track, he's at his top speed and there ain't no more!!
Overall, he had some pretty respectable times and I'm sure we will see him back at the drags.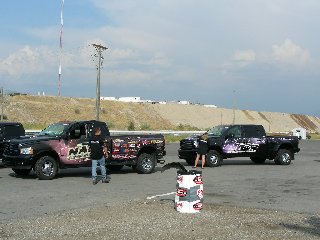 Barry, with North American Diesel Performance brought six trucks down from Canada. He would have had seven, but one got turned back at the border. The reason? The picture on his license didn't match his face — because he had cut his hair off. I thought these police types were trained to tell what people looked like with added hair and removed hair!! Go figure!
I thanked Barry for sponsoring the torque converter and tranny mods on Lem's truck. He was glad to do it and glad for the publicity. Great guy to talk with and he had a great group of people with him. That bunch loves to race — one of the trucks was in the mid 10s! (Check the video section for this one.)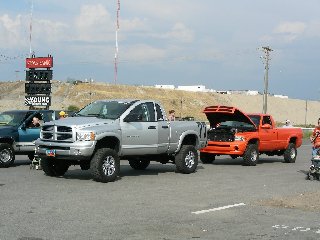 This orange machine had a real nice paint job. Didn't seem to remarkable on the track, though. I think it is a '92.
The owner is Brett Williams out of Salt Lake City, Utah. (Didn't have to drive too far!) Not really a personable fellow; if you talk to him, he generally grunts and then ignores you. Oh well, takes all kinds!
Anyway, this year, he got his truck to look good. Next year, he should be ready to race!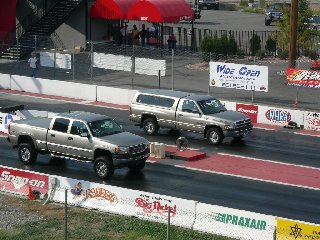 Here's Ray Pierce in his father's late eighties Dodge, lining up against a newer Duramax. Ray did a 16.81 in this heat and later ran a 16.44.
Not to shabby for an older diesel with few mods!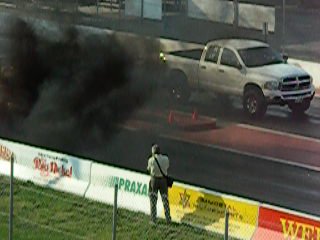 Here's Lem smoking himself out at the starting line – can't see the Christmas Tree. Took 6.68 seconds for reaction time!
Not a bad race once he got going. Ran an 11.88 quarter mile – not counting reaction time!!
He's got about the tightest shifting tranny I've heard on the track. This accounts a lot for his low ETs – thanks to NADP for the torque converter and tranny mods!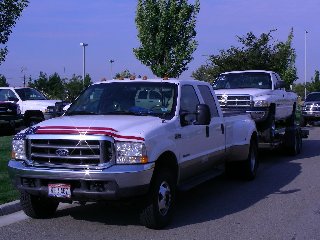 Here we are at the Edge compound on Saturday morning. A lot is happening, with dyno drags and beauty contests (trucks!) and all!
Edge really puts on a show. Live music, lot's of cool trucks and good food. They have tours of the facilities every two hours and pretty much make sure everyone's having a great time!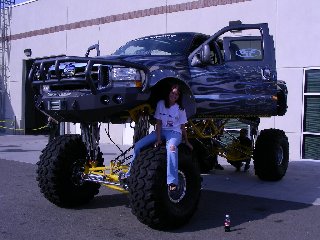 When this bad boy drove up to the lot, Laura, who works for Edge thought she'd like to try a pose on the tire! Sorry, the picture isn't clear as it should be – I didn't check the setting on the camera before I snapped this. I guess that's what makes the difference between being a pro and working for DieselDatabase!
Laura, if we get back down the event next year, I promise you, we'll take that picture again.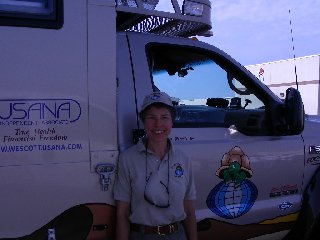 Well, here's another unprofessional photo. How ironic — This is Monika Wescott, a professional photo journalist! She is posed next to the Turtle V.
She and her husband, Gary, were very nice people to talk to. We toured the facility together, talked about articles and websites.
If you love adventure, you will want to surf on over to their website at TurtleExpedition.com .
The Turtle V is an amazing truck: Ford F550 4×4, 7.3L, 275 HP, 525 lb/ft torque, 6 speed, New Process Gear 271 Transfer Case, Dana S-135 with Detroit Lockers on the rear and Dana 60 with ARB Air Locker on the front and Dual Rancho 9000 adjustable shocks with custom National Spring leaf packs. GVWR is 17,500 pounds and the unit weighs out at 14,000 pounds. This thing is beautifully put together. Their site has more photos (mine didn't turn out!).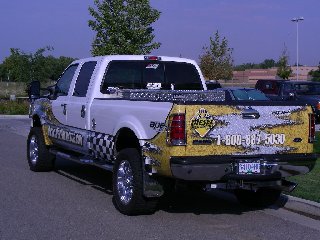 Harald Harks brought this impressive Ford down from Canada. He represents BD Diesel Performance. Great guys!
Every April and October, BD Power hosts a Dyno Day. Don't know the exact dates, Check their website for more details.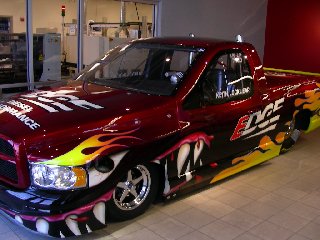 Paul Lehman was our tour guide. He showed us around the plant and described the manufacturing, assembly and quality control processes very well.
But what caught the eye of most of the tourists was this project truck under development by Edge Products. I think I read somewhere this truck is projected to run the quarter mile in 6 seconds, when the modifications are completed. Look out Banks!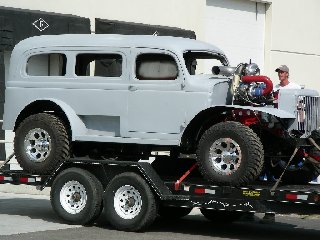 Hey, they bring almost anything to these events! (What is it???)
We'd like to thank Edge and their parent company, MSD Ignitions, for putting on a wonderful event. Everyone had a great time and it was an opportunity to meet a lot of people in the diesel community.
If you get the time next year, stop by!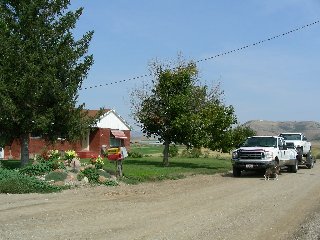 On the trip back home, Lem and I decided to stop by Napoleon Dynamite's house a get a picture of our trucks in front. It all started on our trip down. The scenery was similar to that in the movie. So we looked on the map and discovered, with a small detour, we were very close.
While driving through a residential area, we were wondering if we should ask anyone if they knew where the house was. We found some reasonable looking people and sure enough, they gave us directions. Pedro's house was two blocks away, just around the corner. They had never been to Napoleon's but they knew it was out of town going along Oneida and then would head north from there — somewhere.
Well, we drove out of town on Oneida. As we passed 1600, I had a hunch the house was up that road. But we drove on to the edge of the foothills and finally doubled back. When we drove north on 1600, we turned down a side street and saw a house that looked very familiar, but at that point, we started double guessing and talked ourselves out of our discovery.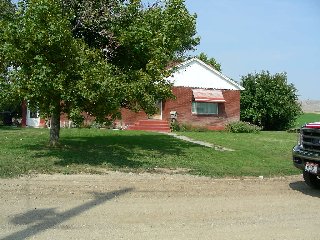 Big J Burgers does not look like the movie version. We stopped in to get the official directions. They have all the maps and trinkets for all the Napoleon Dynamite losers such as us! We bought a map and 4 Vote For Pedro key chains!
Sure enough! The map said we were right the first time. We drove back to the house and took these pictures! Sweet!
Hope you enjoyed taking this trip with us. Join us again. In the mean time, I'm going to buy a new camera and maybe take some lessons!