Before we talk about what EatsRice.com has to offer your diesel rig and what the benefits of the EatsRice mod is, we need to explain what a ricer is, for those who may not have heard about them. A "ricer", or "rice," are sometimes known as "rice burners." They are gutless foreign or domestic cars that have been made to look fast, when in fact, they are not. The most common vehicles converted to "riceism" are the Honda Civic, Dodge Neon and the Chevy Cavalier.
Rice burners have very distinct markings – decals for parts they are not equipped with. NOS stickers, but no actual NOS. Brembo stickers, but no actual brakes, etc. They do this because they are convinced of the added horsepower the stickers bring to their ride.
Few ricers have gone beyond the decal mod stage. Of these, many ricers have been lowered, and that is usually accessorized with a spoiler – or a useless wing, and the car still can't fly. Occasionally, you may see a ricer with a half painted body kit. Then there are those with the broken exhaust, usually due to events cause by the lowering – and you can hear these a mile away. There are a few who have actually saved up the money for an exhaust kit. The exhaust kit is the second most popular of two actual performance parts that can be found on a ricer. The first most popular performance part you will find, is the AEM Air Intake (we really do love you, AEM). The AEM Air Intake on a ricer is characterized by a long, very shiny red, blue or chrome tube with a cone filter on the end. However, the tube is almost always zip tied to something to keep from rattling.
All-in-all, we think ricers are cute – but they can also be quite annoying.
Are you tired of all them little ricers hangin' around your big diesel truck, tauntin' and teasin' – loaded up with all them cool decals, thinkin' they got the hottest car around?
If so, EatsRice.com has the answer for you!
EatsRice.com is first in performance and first in diesel sticker mods! Our star performer is the Eats Rice – Diesel Performance Edition sticker. This is a three piece set which includes one (1) – 3.25 inch square for your tailgate, and two (2) – 6 inch Diesel Performance Edition stickers for the front of your truck, to place on each side, near your "Powerstroke", "Cummins" or "Duramax" logos. You can get these in red and white with black background or red and black with white background.
For a higher performance mod, EatsRice.com is proud to introduce the new Got Boost? 4 inch x 3.6 inch sticker! You may be asking yourself, "What does Got Boost mean?". It's a deep question, one that philosophers have studied for decades, and to tell you the truth, we don't even know the answer to it. It's really not important as to what this sticker means. If the phrase "Got Boost?" leaves your opponent sitting at the start line in a thick black cloud from your exhaust, pondering the mysteries of the universe while you cross the finish line, this sticker has done it's job. This is the ticket: a one time fee to win race after race after race! It's a no brainer.
Are you looking for a Got Diesel?™ sticker? Well, not many people know this, but Got Diesel?™ is trademarked by our friends at DieselSite.com. Great for them! Nonetheless, the rocket scientists and geniuses at EatsRice.com have come up with a solution for our customers who are looking for a simple sticker that begs the question, "Sir, do you have a diesel motor?". Ladies and Gentlemen, we are happy to introduce our new Has Diesel? sticker! Just as good as Got Diesel?™ – and it is grammatically correct. These stickers are 2.75 inch round, black with white letters – very impressive.
Now, the best of the best for you diesel truckers – get them sorry a** bitty cars off your bumper with our new and improved warning sticker. Doesn't matter if you are running diesel exhaust stacks or shooting straight out the back – let the people behind you know – and fear!! The sticker of stickers – Caution: Tailgating May Cause Lung Irritation sticker. These stickers are 8 inches wide x 2.2 inches tall. Perfect for your tailgate, rear window, or bumper!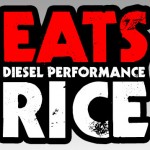 When was the last time you bought an aftermarket product that:
– Increased Your Horsepower
– Made Your Truck Look GREAT
– Was Super Easy To Install
– Made Ricers Pee Their Pants
– And Only Cost You $6! (some stickers might be a little more and some a little less)
Let all those ricers out there know where you stand and that they don't stand a chance against your truck with some EATS RICE stickers! Whether it be in the 1/4 mile, pulling stumps out of the ground, or hauling more women, there is no competition.
We aren't going to lie to you and say that our EATS RICE stickers will give you a hundred or more additional horsepower or something absurd like that. No, the facts are clear – you will probably only see an extra twenty or thirty horsepower, and maybe another thirty foot-pounds of torque from our stickers. But you can't beat the performance for the price!
To see more of what EatsRice.com has to offer, click on over to EatsRice.com – today!