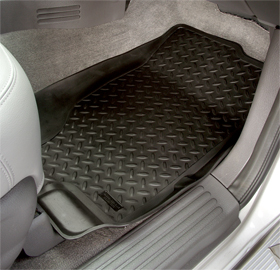 It doesn't take long to figure out that not all floor mats and liners are the same. Some offer great protection from the elements such as mud, snow, grime and dust, while others offer almost none. If you work in construction or any kind of industry that leavers your boots a little muddy at the end of the day, you want to be sure to buy a floor mat that offers the absolute best protection. A floor mat that traps mud from seeping over onto your floor. These kind of floor mats and usually referred to as floor liners. A floor liner is liking having a bucket to rest your feet on. It wont matter how much mud or crud falls off your shoes, they will be protected because the floor liner has a wall on every side.
So, what are the best floor mats or "liners"?
Husky Liners – Husky Liners have been making floor mats and liners for years. Their original floor protector, the Husky Floor Liner, has been the industry standard since it released. You will not find better protection for your carpet. If you are looking for a better looking floor liner, consider their brand new WeatherBeater Liner. If you don't need as much protection, consider going with a simple but handsome Heavy Duty Floor Mat from Husky Liners.
WeatherTech – Another company that has been specializing in floor liners and mats for years is Weather Tech. They started out with probably a better looking product, not as rugged as the original Husky Floor Liner. However, Husky has come a long way with their new WeatherBeaters. Anyways, WeatherTech Makes a superior Extreme Duty Floor Liner and Floor Mat that will exceed your wildest expectations in design and quality.
Rugged Ridge – A floor liner that has flown on the scene like an F-16, is a company called Rugged Ridge. They are the favorite among Jeep enthusiasts, but I would not be ashamed to put them in my diesel truck in the least.
So there you go. These are the top 3 floor mats and liners in the business. Any diesel truck owner will be proud as punch to have one of these fine products in their vehicle.