I know of two companies who manufacture these
BANKS
Banks High Ram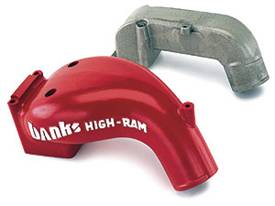 An intercooler increases the air density, which allows your engine to produce more power. So it stands to reason that you wouldn't want to restrict the flow of air exiting the intercooler, right? Unfortunately, that's exactly what the stock piece does. Look at how cramped and angular the factory inlet is compared to the streamlined Aftermarket intakes. The performance intake flows air more much efficiently, providing greater boost without the drawback of raising turbine backpressure. You'll enjoy improved acceleration and better fuel economy!
Here is a comparison photo with a stock intake.
ATS
ATS Dodge Arc-Flow™ Intake Manifold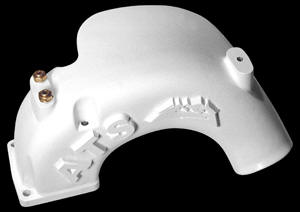 The ATS Ram Intake manifold provides superior airflow versus the stock intake horn. Arc-flow™ design increases efficiency and improves air velocity into the engine even at low boost levels. The shrouded back side of the manifold provides an embossed area where gauges and other inputs such as water injection/nitrous/pressure switches etc., can tap into providing a clean and easy install. Lower restriction and improved airflow means a reduction in turbo surge, as well as featuring an optimized nitrous or water injection port that delivers the flow directly towards the intake port of the motor. This is one item that anyone can install simply and quickly for improved performance! The ATS Arc-flow™ manifold is available in clear-coat metal finish, white powder coat, and black powder coat with all hardware and plugs included.