By popular demand our customers have asked us to show a comparison between the Bosch 275hp RV injector and the Diesel Dynamics True Torque II injector series. This graph shows typical gains with the 275hp RV injectors and DD stages 1,2, and 3.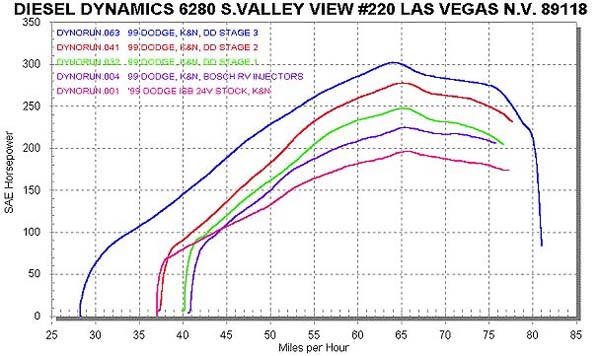 This is a graph of a 99 Cummins Ram with Std Transmission.
+ The pink graph shows the truck with stock injectors as received.
+ The light blue graph shows the typical 30hp gain with the 275hp RV injectors.
+ The green graph shows the horse power improvement with our True Torque II Stage 1 injector. True Torque II Stage 1 injectors also carry the same part number as your stock injector.
+ The red graph is typical of our stage 2 True Torque II injector
+ The dark blue graph shows our very well documented True Torque II Stage 3 injector in action.
As you can see there is obviously no contest. True Torque injectors are carefully matched blue printed and assembled to yield outstanding and unequaled hp and mileage improvements.