I built this setup from scratch and ran it for only 1 month before removing and reinstalling my 4″ system. This system sounded very good but had some draw backs that I couldn't live with including noise and smoke for passengers in the back and soot showers on startup after a rain or carwash (there are ways around this last problem but I didn't build the stacks with this problem in mind).
See also My Ram and Ram Modifications if you want more info on other truck modifications.
These stacks are not available for sale as I have already sold them.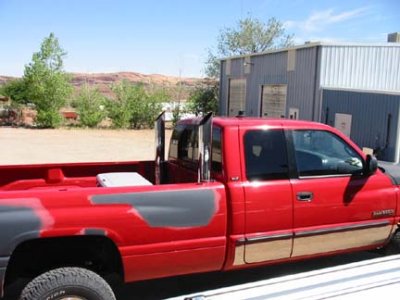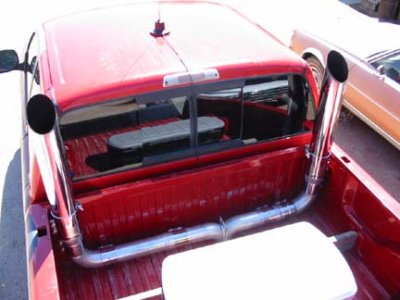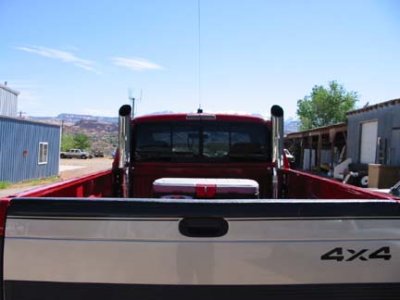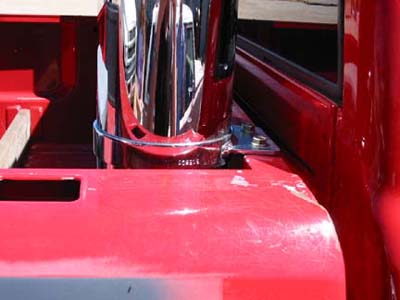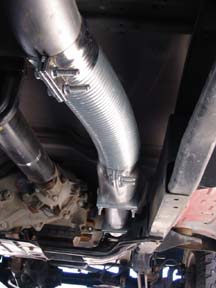 List of parts I used
9 – 4″ band clamps (FBC400)
2 – 5″ band clamps (FBC500)
2 – 5″x48″ (cut to 30″) chrome slant cut stacks (54811)
2 – 5″ stack mounting brackets (PB500C)
2 – 4″ ID/OD 90 degree elbows (10490-8A)
1 – 4″ OD/OD 90 degree elbow (00490-12A)
1 – 4″ Y-Pipe (Y-401A)
2 – 5″ OD – 4″ ID Reducers (R50-41A)
1 – 4″x24″ galvanized Flex pipe
1 – 4″ in/out universal bullet muffler (WLK-24217)