When in the process of bombing a CTD you will have to increase your fuel. With the increase of fuel comes an increase in heat. You can safely run 1200° once in a while but major failure can occur if your running at high heat conditions for a period of time. To keep things cooled down and to accommodate the added fuel You will need to Upgrade your Charger. There are Many Options and each have there own benefits and are designed for specific applications some are single charger set ups while others are twin charger systems.
Piers Diesel Research (www.piersdiesel.com)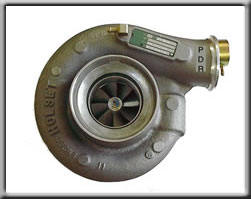 The PDR HX35 is a hybrid or modified HX35 turbo. It is recommended as a replacement for the existing turbos on 1994 – 2002 Dodge RAM diesels. The PDR turbo is intended for stock trucks that tow and/or for those running up to 350hp. Above 350hp you should consider the PDR HX40, B1 Series or PDR Twin Turbo systems.
The PDR HX35 takes the stock turbo and installs a bigger pinwheel on the compressor side, then machines each housing to very close tolerances that match each individual pinwheel. The result is a turbo that spools up faster than the stock unit and stays within its efficiency range much further. Since we are modifying the compressor side of the turbo, our turbo works the existing 12cm, 14cm, or 16cm exhaust housings and exhaust down pipes. There is no need to buy additional housings or exhaust systems for many applications. This also allows our turbo to retain the use of exhaust brakes as well. For trucks with higher horsepower, we do recommend a 14cm wastegated housing and a 4″ exhaust system.
Be sure to specify what year truck you are ordering for. On 1994 -1998.5 Dodge RAM trucks the wastegate actuator bolts to the exhaust housing, and on 1999 and newer trucks the wastegate actuator is bolted to the compressor housing. We have a design for each.
The PDR HX35 can be used with 2001-2002 automatics with HY35 turbos. A complete turbo with a 12cm to 16cm exhaust housing is required. The turbo will not fit a 9cm housing.
The PDR HX35 can also be used with older 1989-1993 Dodge RAM trucks with WH1 turbos.
The improved air flow from our modified turbo has many benefits. The decreased spool up time improves low end throttle response, reduces turbo lag, reduces smoke at low end acceleration, up to 100 degree reduction in EGT's, and quicker turbo cooling at shutdown.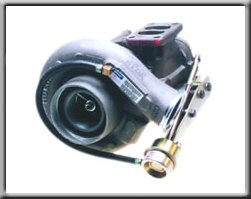 The PDR HX40 turbo is designed for increased reliability and faster spool up, over a stock HX40 turbo. The PDR HX40 turbo is recommended for trucks that are running between 350hp and 450hp. For trucks under 350hp you should consider the PDR HX35 turbo. For trucks over 450hp you should consider the B1 Series or PDR Twin Turbo systems. The PDR HX40 is also a good choice for medium horsepower trucks that do a lot of towing, and for customers who would prefer less turbo lag and more streetable driving manners versus customers looking for all out performance. Trucks intended for high performance street applications should consider the B1 Series turbo or PDR Twin Turbo systems.
Each PDR HX40 is custom made to PDR specifications, including modifications to the oiling of the turbo shaft. These modifications along with zero balancing have lead to a significant increase in reliability.
The PDR HX40 comes with your choice of either a 16cm or 18cm housing. Both housings are specially modified for faster turbo spool up. Our proprietary modifications allow a 16cm housing to spool like a 14cm housing, while still maintaining the top end airflow of a 16cm housing. Our 18cm housing spools like a 16cm housing, while maintaining the top end airflow of a 18cm housing. For most applications we recommend the 16cm housing. For heavily fueled and racing applications the 18cm housing is preferred.
With HX40 exhaust housings, the flange is 4″ straight out of the turbo and does not use an exhaust elbow. For most applications, this will require the use of a new down pipe. Our kit comes complete with a new down pipe and all gaskets necessary for installation.
Typical turbo mount exhaust brakes are not compatible with HX40 exhaust housings and down pipes. The use of an exhaust brake with a HX40 turbo requires a brake that mounts downstream in the exhaust, such as a 4″ remote mount exhaust brake.
Fits 1989 – 2002 Dodge RAM Cummins Turbo Diesels.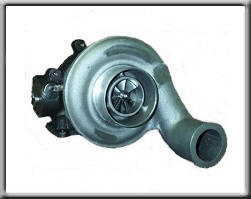 The B1 Bomber Series turbos are a complete line of turbos intended for medium to high horsepower trucks, who want to stay with the single turbo design. Low to medium horsepower trucks should consider the more economical PDR HX35 and PDR HX40 turbos. For the extreme horsepower trucks, you should consider the PDR Twin Turbo system.
The B1 turbo line is renowned for its toughness, and its ability to move a large amount of air for the compressor size. The B1 line is built from quality Schwitzer components using a large shaft diameter, at least 1mm larger than an HX40. The hub area extends out further, lending greater support to the turbine blades and the blades are zero balanced. The B1 hub also features a second oil groove on the hub, whose purpose is to sling oil and keep the bearing cooler. The B1 turbocharger bearings are of a much heavier build which allows better cushioning for the vibration of the shaft as it spins at high RPM.
B1 turbos are available in the following turbine configurations. All B1 turbos utilize the same compressor wheel ( except B2 and Big Bother ). Different exhaust wheels and exhaust housings are used for the different configurations.
B-1 Bomber Mid to high hp std transmission
B-1-2 Mid to high hp, faster spoolup than B-1
B-1-EX3 Same as B-1 with HX35 outlet
B-1-EX4 Same as B-1 with HX40 outlet, can use the HX40 down pipe
KSB-1 Bomber Mid to high hp with faster spoolup than B-1-2
KSB-1-2 Very fast spoolup, high altitude, automatic transmission
KSB-1-2-03 2003 bolt in turbo upgrade
B-1-2-tow Recommended for the tow vehicle with manual transmission
KSB-1-2-tow Recommended for towing with an automatic
B-2 Turbo Used as lower turbo in twin application 600-700 hp
Big Brother Used as lower turbo in twin application 800-900 hp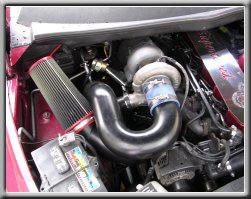 The PDR Twin Turbo systems are recommended for trucks that are running over 450hp in high performance street, racing and pulling applications. Our systems are ideal for high horsepower trucks that tow and high horsepower applications concerned with minimizing turbo lag. Or if you simply want your truck to have it all. For trucks under 450hp you should consider the PDR HX35 and HX40 turbos. For higher horsepower trucks that do little towing and don't need to spend the costs of a twin turbo setup, consider the B1 Series turbos.
PDR Twin Turbo systems are available in configurations for 89-93 1st gen, 94-02 2nd gen and 03-04 3rd gen Dodge RAM trucks. PDR Twin Turbo systems are available in 3 main turbo configurations for different horsepower levels and driver preferences. All turbos are custom built to PDR specifications, which may include modifications to the oiling of the turbo shaft, PDR's extreme heavy duty bearings, and zero balancing. The primary turbo exhaust housings are modified with larger wastegates and to allow the wastegate to work on all 6 cylinders.
| | | | | |
| --- | --- | --- | --- | --- |
| Towing Twins | HX35 | HT3B | 50 psi | 450HP – 550HP |
| Street Twins | HX40 | HT3B | 70 psi | 550HP – 700HP |
| Racing Twins | S440 | Big Brother | 90 psi | 700HP – 900HP |
Note: There are multiple exhaust housing sizes for both the primary and secondary turbos which can be used to custom tailor each twin turbo system to individual customer needs.
Towing Twins – Ideal for higher HP trucks that tow. Excellent spoolup. Sacrifice upper end HP, for better spooling, lower smoke, and lower cruising temps with that heavy load.
Street Twins – Ideal balance between good spoolup and higher boost levels. Spools pretty well. Can be used for towing, yet still support higher HP trucks.
Racing Twins – Ideal for extreme HP trucks that want all out performance. Sacrifice some spoolup compared to street twins ( although still much better than a large single ), to gain all out performance for racing or pulling
The PDR Twin Turbo kits are sold as a complete kit including both turbos and exhaust housings, all plumbing, air intake system, oil return lines, clamps and mounting hardware.
PDR Twin Turbo kits can also be sold as an upgrade for those who already have a PDR turbo and/or an ATS manifold. Existing exhaust housings may need to be exchanged for the one designed for the twin turbo kit.
PDR recommends no more than 50psi without O-Ringing the head. Higher boost levels will require various combinations of O-Ring'd heads, stud kits, special head gaskets and our complete PDR intercooler boot kit.
The PDR Twin Turbo kits comes with a 5″ downpipe that is long enough to run just past the transmission bell housing area. It is the customers responsibility to complete the exhaust system from here. PDR recommends a complete 5″ exhaust for all high hp / high boost applications. For those needing an exhaust brake, the kit can be combined with a 5″ remote mount exhaust brake from PacBrake ( not included ).
The PDR Twin Turbo systems use a large aFe air filter with 5″ inlet. The intake for each system is custom designed to fit each style truck. Because of the 5″ inlet, existing air intake systems such as an aFe Mega Cannon or Scotty2 will need to be replaced with the aFe filter that comes with our kit.
All PDR Twin Turbo systems allow the customer to keep the second battery. For 2nd gen trucks equipped with automatic transmissions, the heat exchanger down by the transmission bell housing will need to be removed. This will require the use of an aftermarket transmission cooler to keep tranny temps in line while towing with heavy loads. This is not included in the kit.
Buddha Power (www.buddhapower.net)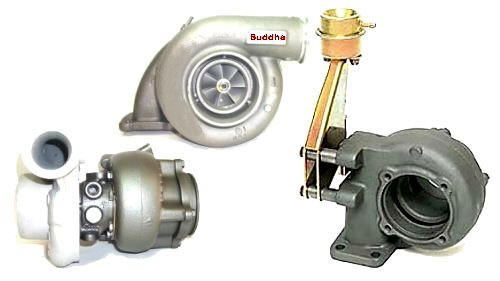 Buddha Power can supply custom turbocharger systems for everything from improved factory performance to all out competition. Our experience and "in house" testing has enabled us to develop the perfect turbochargers for any level of performance. We have the precise size turbo systems to meet any volume or boost levels needed.
Borg Warner (www.turbodriven.com)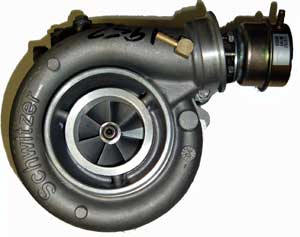 The S300G features a compressor wheel with extended-tip technology. This performance and durability feature helps the turbo boost harder without over-stressing the compressor wheel. With proper modifications°, the S300G replacement turbo can deliver the air to help the 5.9L engine produce 350 to 400 horsepower! The S300G will effectively replace the Holset HX35W and HX40W turbo applied to truck model years 1994 to 2002.
BD Power (www.bd-power.com)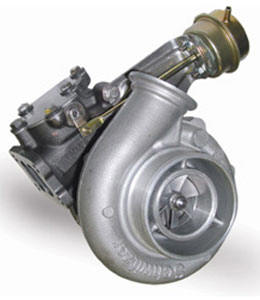 Dodge Super "B" Single Turbo
These kits are designed for the Cummins 5.9L from 1994-2002 model year trucks with 75-200 additional or 300 to 425 RWHP. True Benefits are reduced smoke emissions ans well as lower exhaust gas temperatures. All exhaust, intake and oil adapters included.
A simple description of the operation of a turbo is to compare it to an air pump. The ultimate design is for the turbo to reach its peak boost pressure quickly and not create a lot of exhaust backpressure to drive the turbine wheel.
1994-1999 stock engines have the 12 sq cm w/g hsg that can be quite restrictive when the power is increased above 300 flywheel HP and results in high exhaust temperature. Changing to the 14 sq cm w/g turbine hsg # 1045920 or the 16-non/w/g hsg #1045910 will reduce temperature and improve engine power.
2001 automatic transmission equipped engines have a 9 or 10 sq cm hsg that is too restrictive for a high power increase (beyond the 300 hp) BD's new HX35 Turbo is better.
1994-04 Engines with 50-200 hp modifications work best with the Super B Single turbo kit. The kits come with the exhaust and intake adapters required to bolt into place. 2003 and 04 kits include an adapter so the turbo mount exhaust brake can bolt up; earlier models require a remote mount exhaust brake. Earlier year kits come with a 4″ down pipe. 2003-04 Engines that have any more than a 100 hp increase will cause the stock turbo to over speed, surge and fail. The Super B Single is designed for 50-200 increased power and beyond that our twins respond quickly.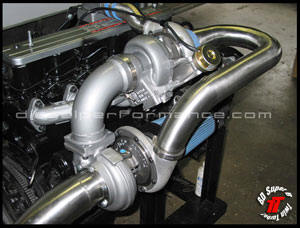 BD Super "B" Twin Turbo Kit
This big power kit is designed for engines with 150-350 HP above stock or 350-500 total RWHP. These compounded turbos respond like no other single! Superior bottom end response with compounded cool boost pressures result in the ultimate airflow for your engine. Dramatic reduction of exhaust gas temperatures and increases in power should be expected. Kit comes complete with all exhaust adapters, stainless steel air intake housings, poweder coated pipes, heat shields and oil adapters.
BD's Super B Twin turbo kit is designed for Dodge Rams with Cummins Diesels with fuel modifications that with the right amount of fuel and air they will develop 350-500 rear wheel Horsepower.
This engineered two stage compounded set of Air Werks S300 turbochargers meets the engines air requirement and keeps exhaust emissions very low with low exhaust temperatures. Turbo boost developed by the high pressure turbo provides quick low engine rpm response, this air charge is compounded by the low pressure turbo which has a broad compressor map for the high engine rpm. The high pressure turbo is the same one we use in the Super B single kit. You can progress from the single to the twins as your desire for more develops
Tests show that at 450 Rear wheel horse power exhaust temperatures pre-turbo of 1175 F were experienced and 51 Pounds of turbo boost was developed on a 2002 ISB Cummins. The exhaust smoke was level was only 3 out of 10. Oringing of the head is not a requirement at this pressure.
The kit is complete with a SS X Intake, exhaust and intake piping and oil drains, heat shields and the 03/04 application evens comes with a 3 piece pulse exhaust manifold to bolt on
If your engine fuel modifications are only 225-375 rear wheel horse power the new Super Single B BW-Air Werks turbo out performs and is less expensive than any turbo on the market. It just needs a new down pipe or adapter to install on your truck. See the Single listing on the web page for more details.
Jannetty Racing (www.jannettyracing.com)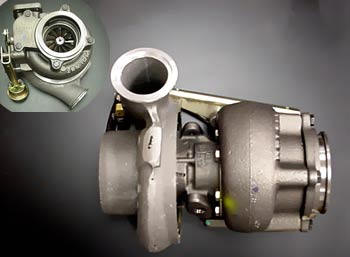 Super turbo: High rpm and extreme hp applications only. I.E. Tractor Pulls, Mud Bogs, Drag Race .
(Note: This is not a "street" turbo and will give up a lot of low rpm spool up for extra high rpm power)