Date: September 15, 2006
Contact: Dan Hobgood—Marketing Mgr.
(626) 691-2188
dhobgood@bankspower.com
For immediate release:
Banks' New Six-Gun® Diesel Tuner for Duramax LB7 Compatible with PowerPDA®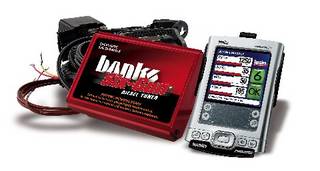 AZUSA, CA—Gale Banks Engineering has developed a new Six-Gun® Diesel Tuner for Duramax LB7 pickups that is compatible with the Banks PowerPDA® Vehicle Command Center. The Banks PowerPDA and new Six-Gun tuner are available separately or as part of a complete racing system: the high-performance Six-Gun Bundle and Banks' ultimate racing power system, the Big Hoss® Bundle.
The new Six-Gun Diesel Tuner is easy to install because it mounts under the hood.
Banks' full-color touch-screen PowerPDA enables the driver to monitor a broad range of LB7 parameters. It can display 15 items, including two user-selectable engine functions. When used with the PowerPDA, Six-Gun has six levels of adjust-on-the-fly power plus a seventh "Speed-Loader®" level. PowerPDA increases Six-Gun's output for a total best gain of +155 hp and +385 lb-ft at the rear wheels, and includes a thermocouple for EGT limiting. The Banks PowerPDA can time 0-60 mph, 1/8- and 1/4-mile performance runs, logging EGT and boost for later review. It can custom-tune a multitude of Six-Gun parameters as well as read, clear, interpret and display on-board diagnostic codes.
With the Palm® Tungsten™ E2 PDA as its platform, Banks PowerPDA lets the user play MP3 tunes; create and/or edit Word®, Excel® & PowerPoint® files; track expenses; access 20,000+ software applications; and more. The PowerPDA kit includes a dash-mounted, recharging docking router station with infrared wireless connectivity. (Palm Tungsten E2 sold separately.) Software updates are available over the Internet. Completely portable, PowerPDA also has built-in Bluetooth® wireless technology.
Established in 1958, Gale Banks Engineering of Azusa, California, is a leading designer-manufacturer of power, braking and high performance products for diesel and gasoline-powered trucks, SUVs and motorhomes. For more information on the Banks PowerPDA, Six-Gun Diesel Tuner or other products offered by Gale Banks Engineering, call toll-free 877-227-5610, or visit bankspower.com. All results based on comprehensive, documented testing. Some PowerPDA features require peripheral devices or 3rd party software (sold separately).
-end-