1. Remove the belt by inserting the drive nose of a 3/8″ ratchet into the square hole in the idler pulley. Use the ratchet to unload the idler tension from the belt by rotating the ratchet counterclockwise as viewed from the front of the engine. The best position for the ratchet is almost straight up in front of the alternator. When tension has been released from the belt, remove it from the engine.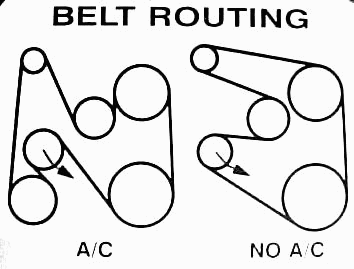 2. Route the fan belt around the pulleys as shown in the diagram under the hood. Position the belt over the grooved pulleys first, with the slack at the water pump pulley.
3. Using a 3/8″ ratchet wrench with the drive inserted into the hole on the tensioner, lift the tensioner and slip the drive belt around the tensioner pulley and water pump pulley.
NOTE:The belt tensioner is spring-loaded and must be pivoted away from the drive belt. Pivoting in the wrong direction can result in damage to the belt tensioner.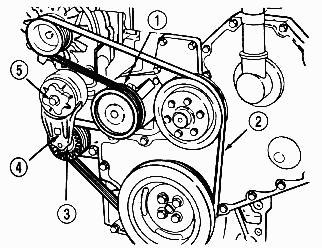 Non-A/C belt drive components:
WATER PUMP

ACCESSORY DRIVE BELT

AUTOMATIC BELT TENSIONER

3/8″ SQUARE BOLT

MOUNT BOLT