As you may know the 2nd Gen Vp44 Equip CTD has its share of fuel delivery problems.
Here is a rough break down of actually what happening on a stock truck.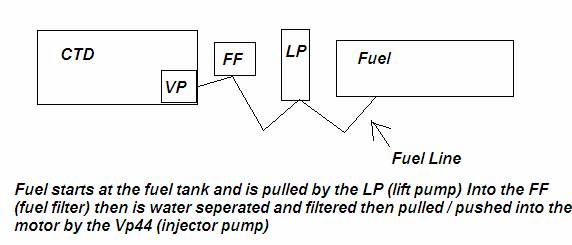 The factory LP is working its self to death pulling the fuel all the way from the tank and it will stumble.
When it does watch out because the Vp44 is strong enough to pull its own fuel just enough for you to think there is not a problem. With out a fuel pressure gauge you will not know when the LP goes out and the Vp44 will follow it cannot supply its own fuel for long. A fuel pressure gauge should be every 2nd gen owner's first mod.
A stock LP registers about 10 -12 psi
The LP will go out period! It may be 100,000 miles, but I have heard of people replacing them 6 times in 70,000 miles.
DON'T CHANCE IT! Of course A FP gauge is not a fix. There are many options that will keep all the fuel system components running in the green.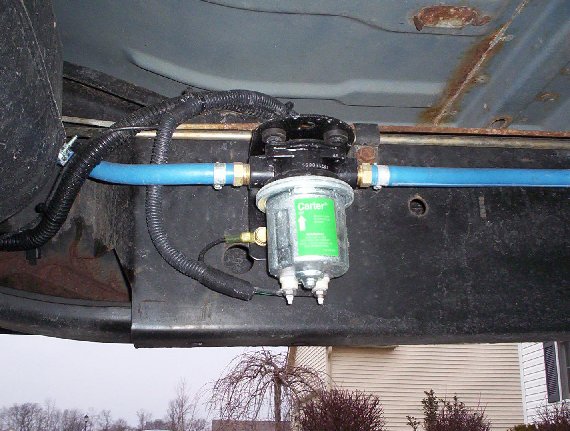 A Pusher Pump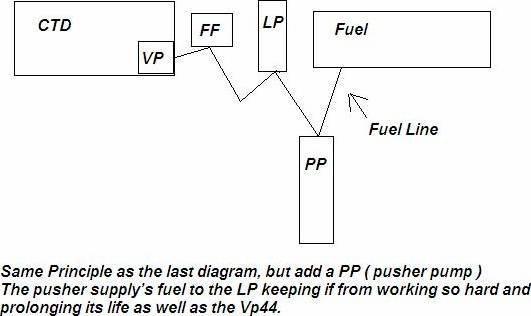 Here is a rough break down of actually what happening on a pusher equip truck.
The pusher can be just a small Carter pump Available at EEP (www.enterpriseengine.com) in kit form for your truck.
Or it can be a performance product that also adds additional benefits.
Here are a few options: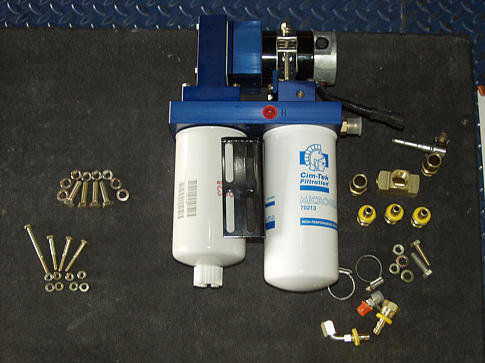 F.A.S.S
Fuel Air Separation System
The FASS System provides the following:
Consistent Engine Performance
Increased Horsepower
Increased Fuel Economy (Saving 8% or more)
Drastically reduces the effects of "Hot Fuel"
Easier/Quicker Starts
Reduced Engine/Cab Noise
Improved All-Weather Performance
Drastically Reduces/Eliminates Black Smoke
Reduces in NOX and Carbon Monoxide
Excellent Cold Weather Performance
Smoother Idle and Quicker Throttle Response
Extended Fuel Filter Life
The FASS System Features:
Fuel Pump
10-Micron Filtration
Water Separator
Includes Fuel Heater
Air Dog
Fuel Preporator
Charles Ekstam (owner of Ekstam Worldwide and inventor of the Fuel Preporator) is more than willing to discuss the air separation process used in his products to whatever level of detail you desire. Please feel free to call him at 1-877-GO-DIESEL
The AirDog™ unit was designed to provide the necessary flow for small diesel engines like the ones found in pickup trucks, delivery trucks, small buses, and agricultural equipment. The AirDog™ is the result of years of research and innovative design; its compact size, light weight structure, and quality materials, makes the AirDog™ unique in its class. The AirDog™ comes with a complete installation kit which makes its installation a breeze. The AirDog™ comes with all the necessary components to get your diesel engine up and running in no time.
* Optimized engine performance
* Greater fuel efficiency
* Higher torque/hp output
* Quieter engine
* Extended filter life
* Improved throttle response
Specs:
Width 3.2 inch 8.13 cm
Height 10 inch 24.50 cm
Weight 10 lb 4.54 Kg
Length 7 inch – 17.78 cm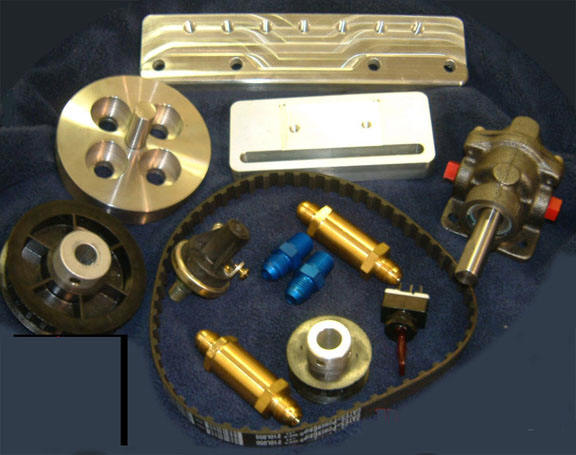 R.A.S.P
Rotary Axis Supply Pump
– ELIMINATES ELECTRONIC FAILURES: Commonly experienced by OEM and Aftermarket electric systems.
– HELPS PREVENT PRE-MATURE INJECTION PUMP FAILURE: Eliminates the necessity of running higher pressures on start-up and idle generally associated with premature injection pump failure.
– WORRY FREE TAKE OFFs. NO MORE EYE BALLING YOUR PRESSURE GAUGE: This is a matched system, pressure & volume increases as engine RPM 's increase.
– EASY MOUNTABLE PUMP: Mounting the R.A.S.P pump is a breeze as it mounts up to the front of your harmonic balancer & the front of the pan rail.
– KO PUMP IS DURABLE / DESIGNED FOR LONGEVITY: The R.A.S.P fuel pump has no wearable parts. Pump kit comes equipped with easily changeable belt system.
– ELIMINATES NEED FOR CARRYING SPARE PUMP IN YOUR TOOLBOX: No more being stranded worry's with this pump system because the KO fuel system is plumbed in parallel to your present system so you always have a back up.
– FUEL FILTER CHANGES ARE A BREEZE: The KO system primes the pump after fuel filter change.
– PRECISION CNC MACHINED BRACKETRY: KO's R.A.S.P system uses precision fit CNC brackets, making installation and adjusting belt tension quick and easy.