Are your intercooler boots & hoses blowing off? This is a common problem with the Ram Diesel especially for those who love high boost pressure. Stock intercooler boots & hoses have been blowing off at as little as 25 PSI which can ruin your day if you are racing at the track or pulling that steep grade.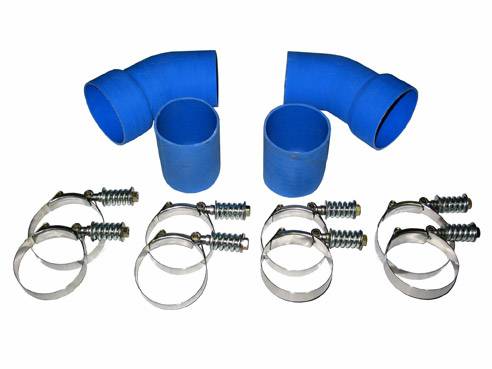 Now available from BD (www.bd-power.com), Silicone Nomex intercooler boots & hoses that can hold up to 75 PSI and high torque t-bar clamps for a tight fit.
1045210 Intercooler Hose/Clamp Kit – Dodge Ram Dodge 225.00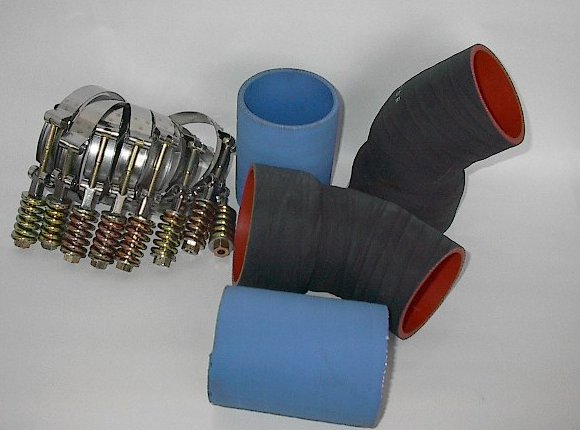 These custom made PDR (www.piersdiesel.com) lower intercooler boots are twice as strong and cost 40% less than factory replacements. These can be sold as a single replacement part, or a complete kit with upper and lower hoses and improved spring clamps. Fits 1994-2002 Dodge Ram diesels.
PDR111202-K 2nd Gen. Intercooler Boot kit – Performance grade – $210.00
PDR111202S-K 2nd Gen. Intercooler Boot kit – Deluxe grade – $220.00
PDR111202 Lower Intercooler boot – boot fits left or right – $65.00
PDR3400006 Spring loaded clamps – set of 8 – $75.00
(Prices as of 9-05-05)